Defining Quality of HIV Services for MSM and Transgender Women: Results of a Systematic Review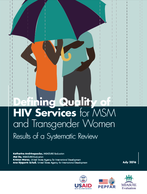 MEASURE Evaluation synthesized the current literature related to quality of HIV services for men who have sex with men (MSM) and transgender women, and proposed a simple, easy-to-use definition of and framework for quality. The report provides the health sector and policy makers a step toward a better understanding, operationalization, and assessment of the quality of HIV services for MSM and transgender women. It incorporates three dimensions of quality that can be operationalized at three different levels: provider, organization, and health system. It also takes into consideration the perspectives both of HIV providers and clients.
Based on the literature reviewed, the authors proposed the following definition of quality: Quality HIV services for MSM and transgender women are those that are based on scientific evidence of the appropriate package of services. They are delivered in a culturally and technically competent manner through efficient and effective linkages across a variety of service delivery models that ensure continuity of care (that is, facility-based, community-based, public, and private settings) and HIV service types (diagnosis, treatment, retention, and ancillary services supporting these). Quality services are voluntary, confidential, and timely. They are delivered in a stigma-free environment, by providers who are equipped to address HIV and other overlapping health problems and concerns of MSM and transgender women, and who understand the culture, values, and social challenges faced by these populations.