Global Evaluation and Monitoring Network for Health (GEMNet-Health) Scope of Evaluation Activities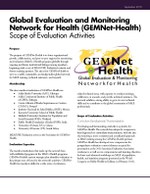 The purpose of GEMNet-Health is to foster organizational growth, collaboration, and peer-to-peer support for monitoring and evaluation (M&E) of health programs globally through ongoing and future institutional linkages among members, beginning with a core of MEASURE Evaluation's current and former training partners. The aim is for GEMNet-Health to serve as a stable, sustainable, and independent global network for M&E training, technical assistance, and research.
This factsheet provides an overview of GEMNet-Health's evaluation activities.