Regulating mHealth in South Africa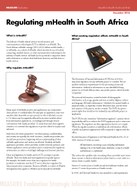 The delivery of health-related services via information and communications technologies (ICT) is referred to as eHealth. The South African mHealth strategy (2015–2019) defines mobile health—or mHealth—as a subset of eHealth, which involves the use of mobile computing, medical sensors, or other communication technology in the delivery of health services. mHealth has the potential to empower clients with information to inform their healthcare decisions and link them to health services.
Many types of mHealth projects and applications can compromise client privacy or confidentiality. For example, an application may store sensitive client data without any controls on who is allowed to access it. Or clients may be negatively affected by incorrect medical advice from information applications, or misdiagnosed through remote conversations with health providers. To avoid these and other negative scenarios, it is essential that regulations to protect clients be in place and enforced.
Although mHealth regulations currently in place in South Africa have a number of gaps, regulatory bodies will be able to address many of them in the medium to long term. People involved in the design and implementation of mHealth projects should keep abreast of regulatory developments to ensure they are in compliance.