Integrated Community Case Management of Childhood Illnesses: Assessment of Nigeria's Program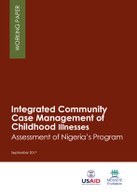 Integrated community case management (ICCM) is a strategy that enables the assessment, classification, treatment, and referral of cases of the main causes of mortality among children under the age of five years (CU5) in Nigeria: pneumonia, diarrhea, and malaria. Following Nigeria's creation of national guidelines for ICCM in 2013, rollout of the strategy commenced in several states. This study sought to assess trends in childhood illnesses and identify sociodemographic barriers and enabling factors affecting the seeking of treatment for CU5.
The aim of the study was to assess the effect of the ICCM intervention on the treatment coverage of diarrhea, malaria, and pneumonia, to inform policy and implementation. The study accomplished this goal through the following tasks:
Examining the trends and patterns of community-based treatment of childhood illnesses in Nigeria
Assessing the effects of implementing ICCM on treatment coverage in Nigeria
Identifying barriers and enablers of uptake of ICCM services by caregivers
The study analyzed the 2008 and 2013 Nigeria Demographic and Health Survey (NDHS) data. Ten key informant interviews and 32 focus group discussions were conducted with community members and leaders, health facility staff, and government stakeholders in Benue and Sokoto states. The occurrence of childhood illness was found to have decreased between 2008 and 2013.
Although full implementation of ICCM will help caregivers to assess care for childhood illnesses with more precision, their awareness of the symptoms of sickness must be increased to better prevent and treat childhood illnesses. Demand for community-led healthcare delivery is high, and Nigerians' acceptance of the implementation of the ICCM is likely to be high, as well, especially in rural communities.