Guide to a Team Approach to Building Capacity for Health Information Management
T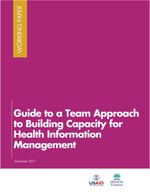 here is a widespread problem of staff shortages for health information systems (HIS) at subnational levels in developing countries. Although health ministries are aware of these shortcomings, they lack the financial and technical resources to create enough positions for specific HIS development and operations. A feasible approach to addressing gaps in HIS functions is to build the HIS capacity of existing staff and mobilize them to take on HIS responsibilities, either solely or as a component of other services.
MEASURE Evaluation, which is funded by the United States Agency for International Development, designed this guide to help health managers and administrators at subnational levels identify staff with potential; build their capacity in the production, management, and use of information for effective action planning and other decision making; and mobilize them to take on HIS responsibilities.
The guide begins with a discussion of the purpose of an HIS, the desired attributes of a fully functional HIS, and how this compares with the HIS of a typical developing country. It then describes how a facility or a health office can effectively manage and use an HIS. Tools and references with illustrative examples are provided in the appendixes.