Family Planning Workforce: Key Indicators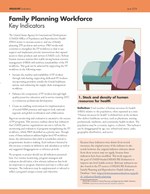 The United States Agency for International Development (USAID) Office of Population and Reproductive Health (PRH) strives to increase access to and use of family planning (FP) products and services. PRH works with countries to strengthen the FP workforce so that it can support and implement priority interventions that expand access to these products and services (USAID, n.d.). Robust human resource systems that enable strong human resource management will reinforce sustainability of the FP workforce.
Rigorous monitoring and evaluation is essential to the success of FP programs. This resource outlines eleven key indicators that USAID partner organizations can use to inform the monitoring and evaluation of programs strengthening the FP workforce, which PRH identified as a priority area. Though some of these indicators address higher-level FP workforce issues, the information they yield is nonetheless critical to programmatic decision making. Each indicator featured in this resource contains its definition and calculation as well as any suggested disaggregations or reference periods.
No program or project should use all indicators presented here. For routine monitoring, program managers and evaluators should select a few relevant indicators that both are important to program objectives and easy to collect and interpret. The indicators may be supplemented or tailored to reflect a program's unique context and objectives.