Routine Health Information System Rapid Assessment Tool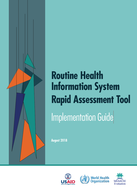 The World Health Organization (WHO) and MEASURE Evaluation—funded by the United States Agency for International Development (USAID)— have identified and harmonized standards for data management of the routine health information system (RHIS). The standards, which are best practices, promote the production of timely, accurate data for use in program planning and monitoring and evaluation (M&E). The RHIS Rapid Assessment Tool was developed to assist health information system (HIS) managers and evaluators identify gaps and weaknesses—aspects of health facility and community information systems that do not meet the standard—with a view to strengthening the RHIS and improving the data. The RHIS Rapid Assessment Tool compares a country's RHIS to the global standards and indicates where resources should be invested to improve the system.
Access the implementation guide and the accompanying data entry module and analysis and dashboards module.