Measuring Impact Qualitatively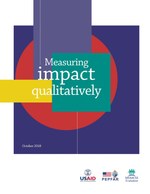 Based on a document review of 32 USAID-funded HIV/AIDS-related evaluation reports from the USAID Development Experience Clearinghouse (DEC) and participant research, the Measuring Impact Qualitatively paper provides insights and strategies for evaluators undertaking performance- and impact-focused evaluations. In outlining some of the ways in which integrating qualitative research methods into evaluations occurs in perfunctory ways, the paper advocates expanding discussions and moving beyond the status quo with end line performance evaluations.
The way forward, the paper suggests, centers on improving recognition that the use of qualitative research methods within evaluations cannot simply be quick and simplistic or a last-minute addition or afterthought; yet, improving qualitative research methods within evaluations is not overly complicated. To this end, the paper provides logical, common sense suggestions that emerged from reviewing 32 evaluation reports and thinking through choices, strengths, and weaknesses. The paper concludes that the endeavor to "measure impact qualitatively" is less about developing a new framework and much more about recognizing that evaluations have long sought to conceptualize, understand, and assess impact in qualitative terms. The improvements needed involve ensuring that (1) the use of qualitative research methods is thoughtful and attentive to detail, explanatory text, and transparency; and (2) the evaluation considers gender appropriately.