Evaluation of Health Programs: A Postgraduate Overview Course – Postgraduate Evaluation Curriculum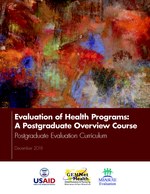 As part of an effort to strengthen postgraduate education on evaluation of health programs, the Global Evaluation and Monitoring Network for Health (GEMNet-Health) and MEASURE Evaluation have embarked on developing competency-based curriculum materials for a master's degree level, overview course on evaluation.
The outline of the modular curriculum materials is presented in this document, along with a summary of the curriculum development approach followed.
To visit the main postgraduate evaluation curriculum page, please click here.