DHIS 2 Functions and Data Use for Health Information System Strengthening: Development and Application of a Practical Training Package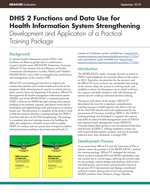 A national health information system (HIS) is the backbone of efforts to gather data to understand a country's health issues. MEASURE Evaluation–Tanzania (MEval-TZ) has worked with the Ministry of Health, Community Development, Gender, Elderly and Children (MOHCDGEC) since 2014 to strengthen the performance and management of the country's HIS.
MEval-TZ's overarching goal has been to improve the systems that monitor and evaluate health and social service programs while enhancing local capacity to sustain and use these systems. Since the beginning of the project, MEval-TZ has supported the health management information system (HMIS) unit of the MOHCDGEC to institutionalize the DHIS 2 software for HMIS through training and capacity building at the national, regional, and district levels and by developing and implementing tools and resources to enhance system use. This document is a snapshot of the project's work to help the ministry develop a training package for DHIS 2 functions and data use for HIS strengthening. The package is a standard, practical training resource for building the skills and competence of health system staff to employ DHIS 2 to analyze and use system data to improve evidence informed decision making at local and national levels.