Haitian Female Sex Workers in the Dominican Republic: A Qualitative Study of HIV Vulnerability and Service Use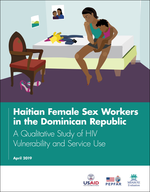 Haitian female sex workers (FSWs) are an important key population for HIV in the Dominican Republic (DR), with an estimated HIV prevalence of 5.4 percent (Centers for Disease Control and Prevention [CDC] & the University of San Francisco Center for AIDS Prevention Studies [UCSF CAPS], 2015) compared to a 0.7 percent national rate (Joint United Nations Programme on HIV/AIDS [UNAIDS], 2017). Despite the higher HIV risk among this group, there is a gap in its access to and use of HIV services. A recent study in Santo Domingo showed that only 36.8 percent of Haitian FSWs had received condoms and lubricants in the past six months, and only 34.1 percent had tested for HIV in the past 12 months (CDC & UCSF CAPS, 2015). Currently, the main mode of HIV-service provision for Haitians in the DR is through mobile HIV-testing units. Research in the DR has shown that multilevel interventions for FSWs, guided by a community empowerment approach, are effective for increasing condom use (Kerrigan et al., 2006) and HIV-treatment adherence (Kerrigan et al., 2016). Adapting this type of intervention to build on the existing mobile units and tailoring it to the experience of Haitian FSWs may increase HIV-service use among this group.
The purpose of this study was to provide descriptive information on the specific HIV-service needs (prevention, testing, treatment, and retention) of Haitian FSWs in the DR that can be used to tailor interventions for this group. This report shares the study findings and provides recommendations.