GEND_GBV Rapid Data Quality Review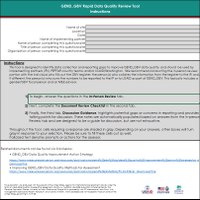 To improve data quality of GEND_GBV—the PEPFAR monitoring, evaluation, and reporting (MER) indicator that captures the number of individuals who received post-violence clinical care services based on the minimum package—USAID engaged MEASURE Evaluation to identify gaps in indicator understanding, recording, and reporting. Together, USAID and MEASURE Evaluation developed and piloted a GEND_GBV Rapid Data Quality Review Tool.
This tool and resource collection is designed to identify data collection and reporting gaps to improve GEND_GBV data quality and should be used by implementing partners (IPs), PEPFAR country teams, and/or USAID/Washington.