Community Event-Based Surveillance of Priority Human and Zoonotic Diseases in Senegal (La surveillance à base communautaire des maladies et zoonoses prioritaires au Sénégal)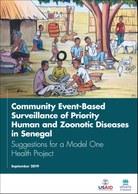 A United States Agency for International Development (USAID)–supported Global Health Security Agenda (GHSA) activity for community event-based surveillance (CEBS) of zoonotic diseases with a One Health approach was launched in Senegal and implemented from September 2017 through June 2019. The activity was part of the USAID-supported MEASURE Evaluation Phase IV project under the GHSA Action 2 package. The activity focused on CEBS of eight prioritized infectious human and six zoonotic diseases in Senegal. This activity is a follow-on implementation of CEBS in four pilot districts (Tambacounda, Koumpentoum, Podor, and Pété) in two regions of Senegal.
The establishment of the pilot CEBS was accomplished by training community health volunteers to detect these diseases as soon as they occurred in their respective communities and to send text messages to the nearest health or veterinary post. The objective of the activity was early detection and response to limit the possibility of any large-scale outbreak of the disease.
The experience gained during this pilot forms the basis for recommendations for a model CEBS with a One Health approach for Senegal and perhaps other countries.