Improving GEND_GBV Data Quality to Enhance PEPFAR Program Performance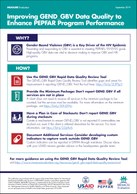 Gender-based violence (GBV) is a key driver of the HIV epidemic. Preventing and responding to GBV is essential to meeting PEPFAR's 95-95-95 goals. High-quality GBV data are vital to decision making to improve GBV and HIV programs. This job aid focuses on improving GEND_GBV data quality to enhance PEPFAR program performance.
To access the GEND_GBV Rapid Data Quality Review Tool and related resources, visit www.measureevaluation.org/resources/gend_gbv-rapid-data-quality-review-tool.