Monthly Malaria Bulletins Contribute to Improving Data Use for Malaria Control in Mali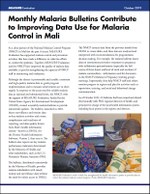 As a close partner of the National Malaria Control Program (NMCP) in Mali for the past 10 years, MEASURE Evaluation has supported malaria control and prevention activities that have made a difference in collective efforts to combat the epidemic. Together, MEASURE Evaluation and the NMCP have improved the quality of malaria data available, in part by strengthening the capacity of NMCP staff in monitoring and evaluation.
Although the disease is preventable and curable, consistent and high-quality malaria data to guide program implementation and to measure achievements are in short supply. In response to the acute need for reliable malaria data at national and subnational levels, the NMCP, with the support of MEASURE Evaluation, created a monthly malaria bulletin to provide nationwide updates. This brief describes how the bulletin is helping improve data use for malaria control.