Engendering Evidence-Based Policy for Young People's Reproductive Health in India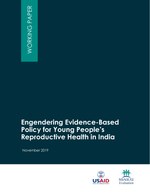 Young people, defined by the World Health Organization as people 10–24 years old, account for more than a quarter of India's population (2014). The country has the opportunity to harvest economic and social gains from its young, working-age population if it invests in human capital development and overcomes such challenges as poor education and healthcare, gender discrimination, and lack of access to adolescent and youth reproductive health care.
This paper presents evidence for policymakers on the strengths and weaknesses of the health policy framework; service delivery mechanisms; and knowledge, attitudes, and practices of 10- to 24-year-olds related to reproductive health in India.
The research incorporated exploratory and descriptive approaches, using qualitative and quantitative data from primary and secondary sources.