Family Planning Indicators Assessment and Data Quality Audit in Selected Health Facilities across Nigeria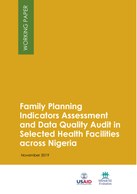 Promoting family planning (FP) is an important strategy for preventing high-risk births and infant deaths, reducing unplanned pregnancies and unsafe abortions, and decreasing the burden of infant and maternal mortality globally. To be successful, FP programs must use information systems to accurately track FP use and trends. Although use of District Health Information Software, version 2 (DHIS2) to manage and aggregate health information is becoming the norm across Nigeria, issues still confound the operationalization, availability, accuracy, consistency, timeliness, completeness, and integrity of FP data at health facilities and in DHIS2 by extension. The purpose of this study was to assess FP data quality in select health facilities in Nigeria.
The study used a mixed-methods approach. A total of 114 (103 public and 11 private) health facilities in six states (Bauchi, Delta, Enugu, Kano, Osun, and Nasarawa) were selected across Nigeria.