Midline Evaluation of the Tanzania Public Sector System Strengthening Program – Final Report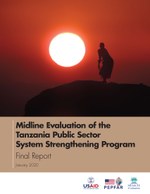 The Public Sector System Strengthening (PS3) project, funded by the United States Agency for International Development (USAID), supports the Government of Tanzania (GOT) in strengthening the public-sector system to promote the delivery, quality and use of public services. This report presents the findings of a midline performance evaluation of PS3 conducted by MEASURE Evaluation which examined time trends and pre- and post-program inception changes in the uptake of health services as well as in financial and human resources indicators in PS3 regions and in other regions of the country. The evaluation also used qualitative methods to examine the perceptions from program implementers, community members, and other stakeholders about the adoption and performance of the PS3 intervention, its strengths and remaining challenges, and the stakeholders' recommendations on ways to address those challenges.
PS3 works across national, regional, and local government levels. The implementation strategy seeks to strengthen each of the five component areas, while working across all sectors and levels of public governance. The expectation is that strengthening systems at all levels will result in improved service delivery at the lowest level—the service provider—which will lead to higher public service utilization by the population and better health outcomes. At the national level, emphasis is placed on providing support for key policies and strategies as well as strengthening the national system to foster improvements in service delivery at lower government levels. At the regional and LGA levels, the PS3 program facilitates the understanding and implementation of national policies and guidelines as well as providing targeted assistance to improve the management and strengthening of systems and resources.
This midline evaluation undertook an outcome evaluation to understand how system-level indicators related to human resources, financial resources, and health service utilization changed over time in PS3 and in other (non-PS3) regions of the country. Data from national routine information systems formed the basis for quantitative measurements. Adapted difference-in-differences models were used to examine time trends before PS3 and during the time PS3 has been active, changes in those trends, and to examine differences between PS3 regions and other regions of the country. Potential differences between Phase 1 and Phase 2 PS3 LGAs were also examined. In addition, qualitative methods provided a more in-depth understanding of the performance of the PS3 intervention in human resources, finance, and system strengthening, captured unintended, indirect effects of the intervention, illuminated the process of change, and examined the quality and character of the intervention implementation. The qualitative component also captured the stakeholders' perceptions of pending challenges in system functioning and community engagement and their recommendations on how to address them.
The findings of this evaluation will contribute to USAID's portfolio of projects focused on public-sector strengthening while informing PS3's continued program implementation. This evaluation was performed at about the mid-point of PS3, three years after the project's inception.