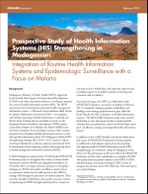 Madagascar's Ministry of Public Health (MPH), supported by the United States Agency for International Development (USAID) and other international donors, is working to improve the country's health information systems (HIS). The MPH and partners have developed an electronic health management information system—a Microsoft Access database called Gestion du Système d'Information Sanitaire (GESIS)—to strengthen and facilitate reporting of health information at national and district levels. Existing disease surveillance systems are the integrated disease surveillance and response (IDSR) system (Surveillance Intégrée de la Maladie et la Riposte [SIMR]) and the Pasteur Institute's fever surveillance system. Other vertical programs have developed parallel information systems to meet their specific information needs. The Madagascar National HIS Strengthening Strategic Plan (2013—2017) aimed to reduce reporting redundancies at district, regional, and national levels by eliminating vertical reporting systems and integrating them in health management information systems (HMIS).
USAID/Madagascar supported the USAID-funded MEASURE Evaluation project to strengthen the country's routine health information systems (RHIS) and integrated surveillance. In November 2016, we began technical assistance to strengthen Madagascar's RHIS and malaria surveillance systems based on assessment results and to build capacity in the MPH to manage HIS through the placement of resident advisors. These activities included establishing a data quality assurance system; strengthening the RHIS through updated policies, improved real-time access to health data, and improved capacity; and providing support to strengthen malaria monitoring and evaluation and surveillance.
Soon after we began, the MPH, in collaboration with MEASURE Evaluation, convened a workshop in February 2017 in Antsirabe, bringing together stakeholders and drafting a nine-strategy implementation plan called the Road Map for the Sub-Committee on Health Information Systems. The MEASURE Evaluation study team used the Road Map as a key document to help us understand the activities that were planned to achieve the Road Map's stated goal: "an efficient, unique and integrated health information system."
In addition to the USAID-funded activities described above and as part of MEASURE Evaluation's Learning Agenda (a collaborative and adaptive approach to documenting and applying results for health information system [HIS] strengthening), we conducted a study in Madagascar of the effects on HIS performance of all recent efforts by MEASURE Evaluation and also other stakeholders to strengthen the HIS. This study aimed to provide evidence to the MPH, USAID, and the broader community working on HIS on how to integrate key elements of the HIS effectively. This brief reports our study's findings.
Also available in French: Étude prospective sur le renforcement des systèmes d'information sanitaire (SIS) à Madagascar: Intégration des systèmes d'information sanitaire de routine et de surveillance épidémiologique axés sur la lutte contre le paludisme