At the Click of a Button: Information System Strengthening in Kenya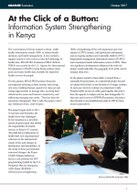 The Government of Kenya wanted a robust, stable health information system (HIS) to inform health decisions and health management. It also needed a support system to train users to take full advantage of health data. MEASURE Evaluation PIMA (MEval-PIMA) was created in 2012 by the United States Agency for International Development (USAID) to help Kenya achieve these goals and make health data available to improve health services.
The USAID Mission in Kenya focused on core priorities for HIV programming funded by the United States President's Plan for Emergency AIDS Relief (PEPFAR): referral system strengthening (RSS), strengthening of the civil registration and vital statistics (CRVS) system, child protection information and an ongoing orphans and vulnerable children (OVC) longitudinal management information system (OLMIS), and community health information system (CHIS).
In these four important sectors of the HIS, MEval-PIMA has created a legacy of routinized approaches to collect and use health data to improve lives—informed in each case by assessments to understand existing system strengths and weaknesses and existing capacity among the health workers who run the system. The project, always engaging with stakeholders, developed a purposeful mix of solutions—software, hardware, infrastructure, mentoring, training, and monitoring—to upgrade and institutionalize methods that leave Kenya better positioned to know its health issues, to devise strategies to address them, and to manage the work required to improve the health of its citizens.